New Nordic Hair Volume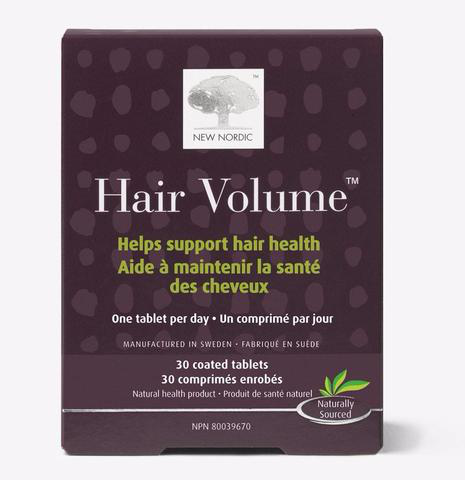 ---
Hair Volume is the successful Swedish hair tablet that nourishes your hair from the inside to make it healthy, voluminous and beautiful.
Features:
Nourishes the hair from within
Helps stop hair shedding
Contains a hair growth promoting factor extracted from apples
PROMOTES HEALTH AND VOLUME
Hair Volume contains 4 proven hair growth-promoting ingredients: apple extract, millet extract, L-cystine and vitamin B5. Hair Volume also contains more of these ingredients, in one tablet, than any other Canadian hair supplements available. Hair Volume is suitable for continuous supplementation to steadily provide your hair with a micronutrient complex that helps support and maintain strong and healthy hair.
NATURALLY SOURCED INGREDIENTS
APPLE EXTRACT
(Malus domestica Borkch)
The highly concentrated apple extract in Hair Volume contains the follicle stimulating procyanidin B2. Studies suggest that this factor activates hair follicle stimulating and protective processes.
MILLET EXTRACT
(Panicum miliaceum L.)
This little seed is rich in vitamins and minerals and contains essential amino acids, which are the building blocks of hair proteins. It is also gluten-free.
SILICON
(Equisetum arvense L.)
Extracted from the horsetail plant, silicon helps reduce potential deficiencies, which show as brittle nails and thinning hair.
SUPPLEMENT FACTS
DAILY DOSE (ADULTS): Take one tablet per day. Take with food. For optimal results, follow the program for 3 months. Can also be taken continuously all year long if needed.
CAUTIONS & WARNINGS:For adults only. Consult a health care practitioner if you are pregnant or breastfeeding. Do not use if blister package is broken. Keep out of reach of children.
| MEDICINAL INGREDIENTS | PER TABLET |
| --- | --- |
| Apple extract (Malus domestica L.) (0.2% procyanidin-B2) | 300 mg |
| Millet extract (Panicum milaceum L.) | 250 mg |
| L-methionine | 50 mg |
| Pantothenic acid – Vitamin B5 (calcium d-Pantothenate) | 30 mg |
| Silicon (Horsetail (Equisetum arvense L.) aerial parts) | 14 mg |
|  Silicon (Horsetail (Equisetum arvense L.) aerial parts) | 7.76 mg |
| Zinc (Zinc oxide) | 10 mg |
| Copper (Copper (II) sulfate) | 1 mg |
| Biotin | 0.48 mg |
This product is free of: sugar, salt, gluten, yeast, soy and dairy products and it is formulated without the use of preservatives, flavors or colors of any kind.
Manufactured in the EU, under pharmaceutical control of purity and content.  Not tested on animals. This product is not intended to diagnose, treat, cure or prevent any disease. Results may vary. 
Always read and follow instructions prior to use.
---
More from this collection