BiosenseClinical Max B12 Cream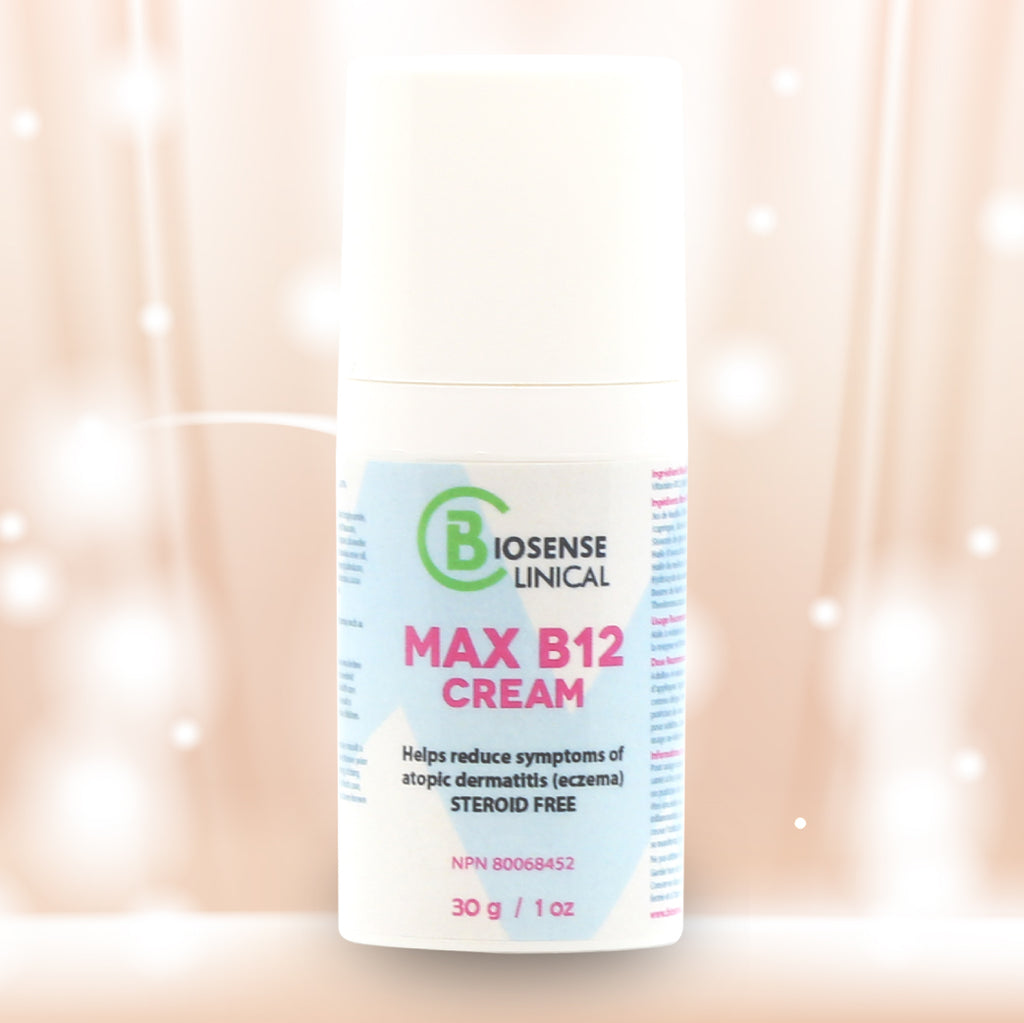 ---
NPN 80068452


Health Canada Approved Clinically Proven Formula for Dermatitis and Eczema 
Free of: parabens, DEA, MEA, TEA, phthalates, MCI/MI, and artificial color
Professional Maximum Clinical Strength
Clinical Evidence to prove that topical B12 is safe, effective and well tolerated:
"

Topical vitamin B12 is a new therapeutic approach in atopic dermatitis. These results document a significant superiority of vitamin B12 cream in comparison with placebo with regard to the reduction of the extent and severity of atopic dermatitis. Furthermore, the treatment was very well tolerated and involved only very low safety risks for the patients.

"

1
"

Topical vitamin B12 should be considered as a treatment option in children with eczema.

"

2
"

Vitamin B12 cream has considerable potential as a well-tolerated, long-term topical therapy of psoriasis.

"

3
Bonus ingredients for extra protection of skin and skin health:
Virgin Argan oil
Therapeutic Melaleuca Alternifolia essential oil: helps to promote healing of wounded skin
Butyrospermum parkii seed oil: enhances moisturizing effect
Therapeutic Melaleuca quinquenervia oil: supports skin health
Therapeutic Rosemarinus officinalis oil: promotes wound healing & helps with cell regenerating process
Therapeutic Syzygium aromaticum oil: deeply moisturizes skin
Therapeutic Frankincense essential oil: soothes skin
Theobroma cacao seed butter: offers supreme moisturizing effect for dry skin
Tocopherol
Therapeutic Lavender essential oil: helps to relieve eczema or dermatitis
Medicinal Ingredient:
Vitamin B12 (Methylcobalamin)…700mcg/g
Recommended Dose:
Adults and Children 6 months and older: Cleanse area before applying. Apply twice daily to irritated area or as needed/directed. Avoid contact with the eyes.
Precaution:
For external use only
If symptoms persist or worsen, consult a health care practitioner
Keep out of reach of children
Store in a cool, dry place
References:
1. Pieck C, Stoerb C, Niedner R, et al. Topical vitamin B12- a new therapeutic approach in atopic dermatitis-evaluation of efficacy and tolerability in a randomized placebo-controlled multicentre clinical trial. Br J Dermatol. 2004 May;150(5):977-83
2. Januchowski R. Evaluation of topical vitamin B12 for the treatment of childhood eczema. J Altern Complement Med. 2009 Apr;15(4):387-9
3. Memmel U, Hoffmann M, Hartung J, et al. Vitamin B12 cream containing avocado oil in the therapy of plaque psoriasis. Dermatology 2001;203:141-7
4. Regana MS, Levancini CF, Ortigosa, JS. Topical vitamin B12: evaluation of its efficacy in plaque-type psoriasis. Revista Latinoamericana de Psoriasis y Artritis Psoriasica 2001;3:15-24
---
More from this collection