Betadine® Sore Throat Gargle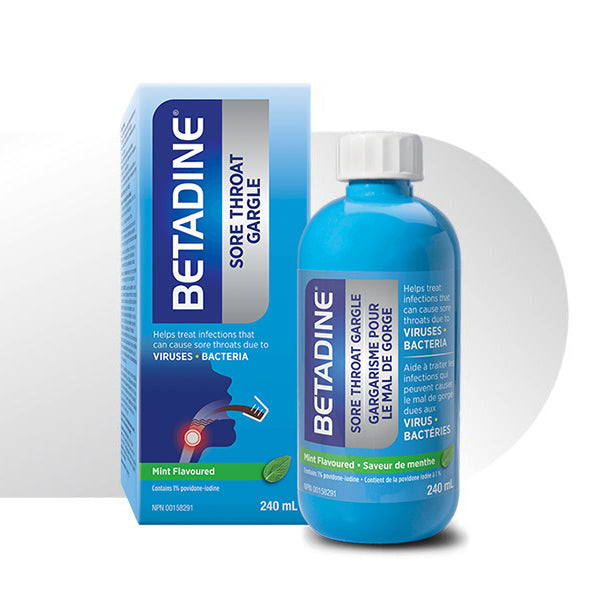 ---
---
Product Description - Betadine® Sore Throat Gargle
Helps treat infections that can cause sore throats.
At the first signs of sore throat, gargle with BETADINE®
Helps treat throat infections due to viruses and bacteria.
Contains an active ingredient, povidone-iodine 1% w/v.
DIRECTIONS:
DO NOT SWALLOW.
Adults and Children (9 years and older):
Rinse and gargle with 10-15 mL up to four times a day. Use undiluted or dilute with one part water. Spit out after use, a small amount might be swallowed during gargling. Rinsing after use is not necessary. Rinse 2-3 minutes for mouth ulcers. May be used following oral surgery or dental procedures. Consult a healthcare professional if symptoms do not improve after 14 days, or worsen.
WARNINGS:
Do not use if you are allergic to any ingredient, have any type of thyroid disorder, if you are pregnant or breast-feeding, or are using hydrogen peroxide. Contact your healthcare professional or hospital immediately if a large amount is swallowed or if you have an allergic reaction such as redness, irritation, swelling, itching, or rash. Does not stain teeth, skin and natural fibre clothes. If accidentally splashed onto your clothes, wash immediately with water. May discolour dentures and braces – remove if possible before use. Avoid contact with jewellery, especially silver.
Do not use if outer box is opened.
Keep out of the reach of children.
Active Ingredient: 1% Povidone Iodine
Non-medicinal ingredients: citric acid monohydrate, eucalyptol, glycerine, iodine, menthol, poloxamer 407, polyoxypropylene glycol, purified water, saccharin sodium, sodium citrate dihydrate, sorbitol solution.
Store at 15°C to 25°C.
---
Frequently Asked Questions
What are the causes of sore throats?
What are viruses and bacteria?
BETADINE® instead of home remedies like salt water?
How can you reduce the risk of getting throat infections?
Will BETADINE® Sore Throat Gargle or BETADINE® Sore Throat Spray stain the teeth?
Why is BETADINE® Sore Throat Gargle and BETADINE® Sore Throat Spray brown in colour?
What happens if I accidentally swallow BETADINE® Sore Throat Gargle or BETADINE® Sore Throat Spray?
Who should not use BETADINE® Sore Throat Gargle or BETADINE® Sore Throat Spray?
---
More from this collection