PureFresh Conditioner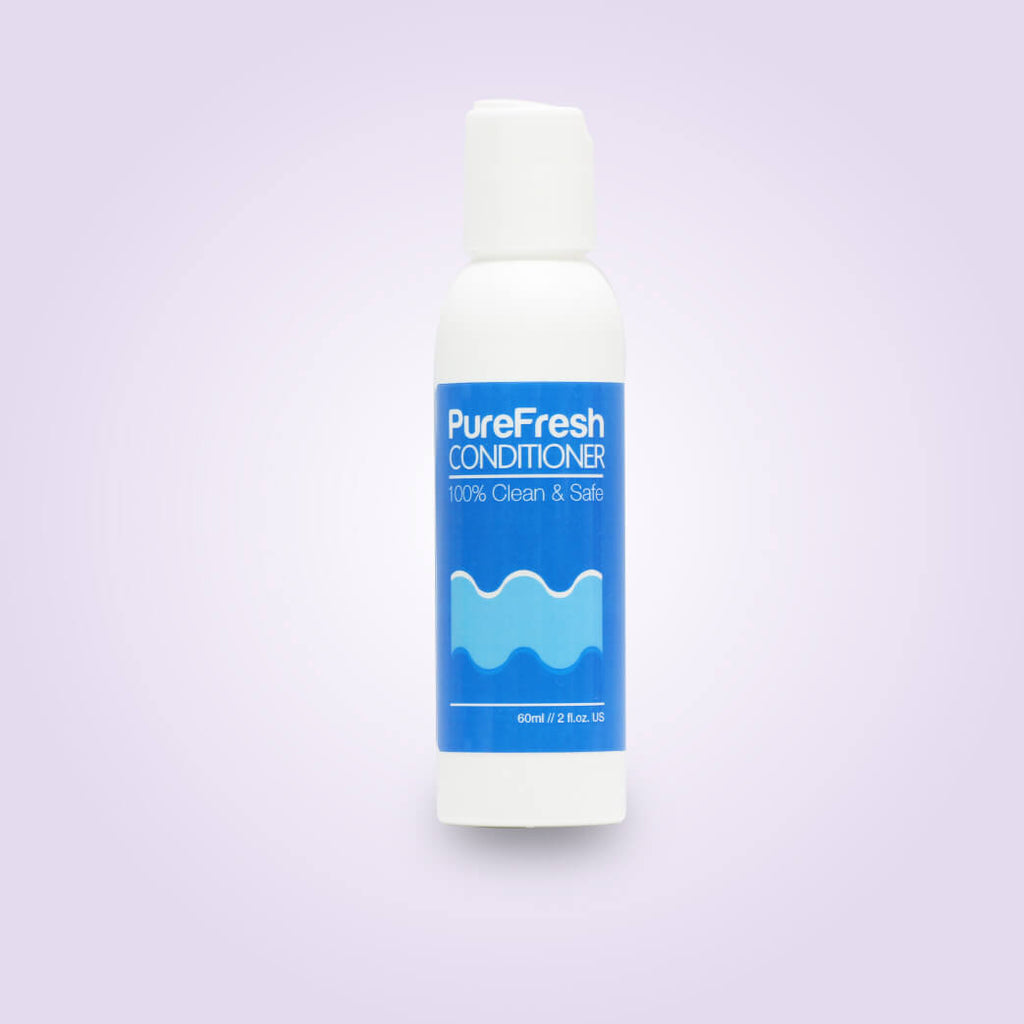 ---
Overview:
People tend to take care of their skin and inclined to forget about their scalp. Scalp is our hair bed that requires proper care and nourishment for healthy and beautiful hair. PureFresh Conditioner is 100% pure and safe alternative to typical conditioners. It combines essential nutrients (e.g. amino acids), raw and active plant extracts and essential oils (e.g. lavender, rosemary, spearmint and more) at effective strengths that deeply nourishes, restores and rejuvenates your hair and scalp.
Features:
Deeply nourishes your hair and scalp
Intensively hydrating
Adds shine with volume to hair with no greasy after feel
Weightlessly detangles and softens hair
Restores damaged hair
Prevents hair loss
Stimulates hair growth
Great for dandruff, dermatitis, eczema, dry & greasy hair
For all hair types
Color safe
Key Ingredients and Benefits:
Amino acids (alanine, arginine, aspartic acid, glycine, isoleucine, histidine, phenylalanine, proline, serine, threonine, valine)
Building blocks of hair- improve hair texture and health: more moisture, bounce and fuller
Enhances styling ability
Prevents hair loss
Stimulates hair growth
Cannabis Sativa
Rich in essential fatty acids, vitamins and protein
Reduces hair loss
Natural moisturizer and food for scalp
Boosts health of scalp
Protects scalp from water loss and prevents dry scalp
Improves appearance and condition of hair especially damaged hair
Strengthens hair and scalp
Adds shine to hair without a flat and greasy after feel
Argania spinosa
Hydrates, strengthens and repairs dry, damages and dull hair
Restores the luster and shine of hair and meds split ends
Calms frizzy ends, adds moisture to dry hair
Revitalizes the scalp and hair growth
Cocos nucifera
Fatty acids protect the roots and strands of hair from breakage
Protects hair against environmental impurities and excess heat
Rich in natural antioxidants and nutrients (e.g. vitamin E, K, iron) - improve softness and luster, help to reduce dandruff and boost hair growth
Antibacterial and antifungal: protect against dandruff
Lavandula angustifolia
Good for dandruff, dermatitis, eczema
Promotes hair growth
Antimicrobial, antiseptic, antifungal, reduces inflammation
Balances oil production
Mentha arvensis/Mentha viridis
Cooling effects that calms your scalp
Decreases inflammation
Antiseptic
Good for dermatitis, congested skin and breakouts on scalp
Balances oil production
Rosemarinus officinalis
Great for dandruff, greasy hair, scalp with dermatitis and eczema
Promotes hair growth by improving circulation to scalp and stimulates scalp
Antimicrobial, antiseptic, antioxidant
Sodium PCA
Holds water and color
Makes hair shine and bounce
Panthenol
Enhances the appearance and feel of hair
Increases hair body, suppleness
Improves the texture of damaged hair both physically or by chemical treatment
Tocopherol
Vitamin E- strong antioxidant to protect hair and scalp
Conditions and moisturizes scalp
Direction:
Massage into wet hair and scalp. Let it stand for a few minutes then rinse off.
PureFresh qualities
Free of SLS, parabens, phthalates, DEA, MEA, TEA, MCI, MI, sulfates, PEG, and gluten
No other known hormone disruptors, detergents, and harsh chemicals
No synthetic fragrances and artificial colors
Natural fragrances from pure organic essential oils
Pure and certified organic essential oils
Hypoallergenic
No animal testing
---
More from this collection