Vitamin B1 Injection - 100 mg/ml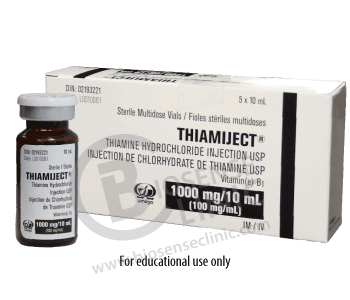 ---
Vitamin B1 (Thiamine Hydrochloride Injection USP) is a water-soluble vitamin needed to process carbohydrates, fat, and protein. Usually found in wheats, fish, and meat.
Indications:
Prophylaxis and treatment of thiamine deficiency including beriberi and Wernicke's encephalopathy.
Contraindications:
Thiamine is contraindicated in patients with known sensitivity to Thiamine or any components of the preparation.
Supplied:
10 mL sterile multiple dose vial: Each mL contains thiamine hydrochloride USP 100 mg, 5 mg Chlorobutanol NF (as preservative), and 5 mg Monothioglycerol (Omega Std.) in water for injection USP.
Storage Recommendations:
Protect from light. Store between 15℃ and 30℃ avoid freezing
If you require needles, alcohol swabs or a sharps container please click here. 
Reference: OMEGA
---
More from this collection