BIXBI Immunity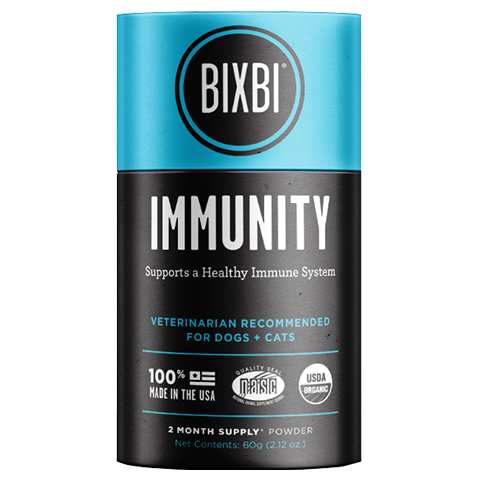 ---
SUPPORTS YOUR PET'S HEALTH AND WELLBEING
Don't wait until your pet gets sick to start thinking about their health, give their immune system the upper hand with BIXBI Immunity. It's made with a powerful blend of mushrooms that supplies your pet with a large range of antioxidants and polysaccharides to reduce the number of free radicals in their body. The mushrooms in BIXBI formula have also been shown to support normal inflammatory responses and both white and red blood cell production. With BIXBI Immunity, your pet is well positioned to fend off nearly anything that comes their way.
Why mushrooms?
WHAT KIND OF MUSHROOMS ARE IN THESE SUPPLEMENTS ANYWAY?
Don't worry. These aren't the mushrooms you associate with the 60's and acid rock. These are carefully selected, organically grown mushrooms. BIXBI only uses the mycelium (or roots) of the mushrooms in our supplements. And every one of their supplements was formulated by BIXBI's founder, James Crouch, in conjunction with an immunologist and veterinarian. They're designed to act as a prebiotic in your pet's body—creating a health ecology for your pet's digestive tract. With a happy, healthy gut, your pet's entire immune system becomes stronger and healthier too.
WHY BIXBI MUSHROOMS ARE BETTER?
As mushrooms grow, they absorb the toxins and pollutants of their environment. And that's why BIXBI mushrooms are grown under highly controlled laboratory conditions. The air in the lab is triple filtered. The crop is tested quarterly for over 130 toxins and contaminants. And the mushrooms are exclusively grown in Certified Organic Sorghum (white milo) that's gluten free and has a guaranteed 95% conversion rate. Which means that the mushrooms digest 95% of the sorghum and the final product only has 5% sorghum. Other mushroom supplements are grown in oats, rice or other substrates that have lower conversion rates. Which means that other mushroom supplements end up with lower potency. At BIXBI, they produce best-in-class mushroom for your best-in-show pooch.
Important Facts:
USA Made & Sourced
Certified by the National Animal Supplement Council
Made with Organic Mushrooms
Each Canister is a Two-month Supply for the Average 50 lb. Dog
Instructions:
Serving Size: 1/4 teaspoon (0.5g) per 25lbs
Place on dry or wet food once per day (for lame or diseased pets, double dosage for the first 7 days)
Ingredients:
Organic Coriolus Versicolor, Organic Agaricus Blazei, Organic Reishi, Organic Shiitake, Organic Maitake, Organic Cordyceps, Organic King Trumpet, Organic Lion's Mane
---
More from this collection