Drixoral Decongestant Nasal Spray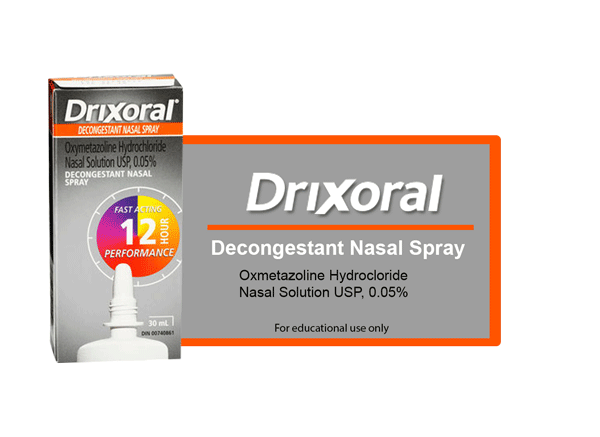 ---

INDICATION:
Temporarily relieves nasal congestion and sinus pressure due to a cold, hay fever or other upper respiratory allergies.
DOSAGE:
For adults and children 12 years and over: Spray 2 or 3 times in each nostril twice a day every 12 hours. Do not exceed 2 doses in any 24 hours period. Children under 12 years: Consult your doctor before use.
DIRECTIONS:
To spray, squeeze bottle quickly and firmly. Do not tilt head backwards while spraying. Wipe nozzle clean after use. Retain carton for future reference on full labeling.
CAUTION:
Do not exceed recommended dosage.
Individuals with high blood pressure, diabetes, heart or thyroid disease or difficulty in urination due to enlargement of the prostate gland should not use unless directed by a physician.
If you are pregnant or nursing, seek the advice of a physician before using this product.
This product may cause temporary discomfort such as burning, stinging, sneezing or an increase in nasal discharge.
Do not use this product for more than 3 consecutive days or nasal congestion may recur or worsen.
Use only as directed, if symptoms persist, consult a doctor.
The use of this container by more than one person may spread infection.
In case of accidental ingestion, seek healthcare professional assistance or contact a Poison Control Center immediately.
Keep this and all medication stored in a safe place out of the reach of children.
ACTIVE INGREDIENT: Oxymetazoline Hydrochloride Nasal Solution USP, 0.05%
NON-MEDICINAL INGREDIENTS (alphabetical order): Benzalkonium chloride solution, edetate disodium, propylene glycol, sodium phosphate monobasic, water, and hydrochloric acid or sodium hydroxide to adjust pH.
Store between 15° and 30°C.
---
More from this collection