Emla Patch 20 x 1 gram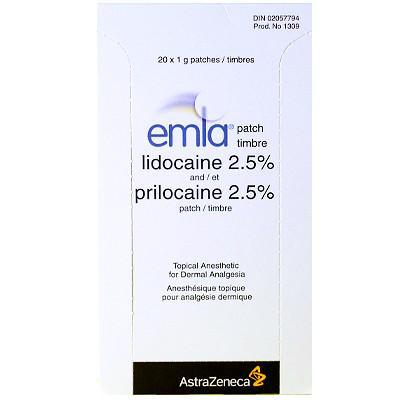 ---
EMLA Patch (lidocaine 2.5% and prilocaine 2.5%) is a topical anesthetic which causes a temporary numbness to the skin area.
This combination product contains two medications: lidocaine and prilocaine. Both of these medications belong to the family of topical anesthetics. Together, they are used to reduce the pain or discomfort experienced with minor procedures on intact skin, such as vaccination with certain vaccines, having blood taken, or laser treatment skin surgeries. This medication may also be used for pain relief before removing debris around leg skin ulcers or prior to minor procedures on the genitalia.
Lidocaine - prilocaine works by numbing the surface and lower layers of skin to prevent pain messages being sent from the nerves under the skin. The numbing effect starts about 1 hour after applying the medication and will continue for at least 2 hours after removing the medication.
DIN:02057794
Ingredients:
lidocaine 2.5% and prilocaine 2.5%)
Directions:
Each patch contains 1 gram (single use) of anesthetic and should be applied 1 hour before the shot or needle procedure. Satisfactory numbing of the skin occurs 1 hour after application, reaches a maximum at 2 to 3 hours (1 hour for children less than 3 months), and lasts for 1 to 2 hours after removal. Apply as directed by physician or pharmacist. Refer to product insert for more information.
Manufacturer:Astra Zeneca
---
More from this collection