Serrapeptase (Enerex) - 120,000 U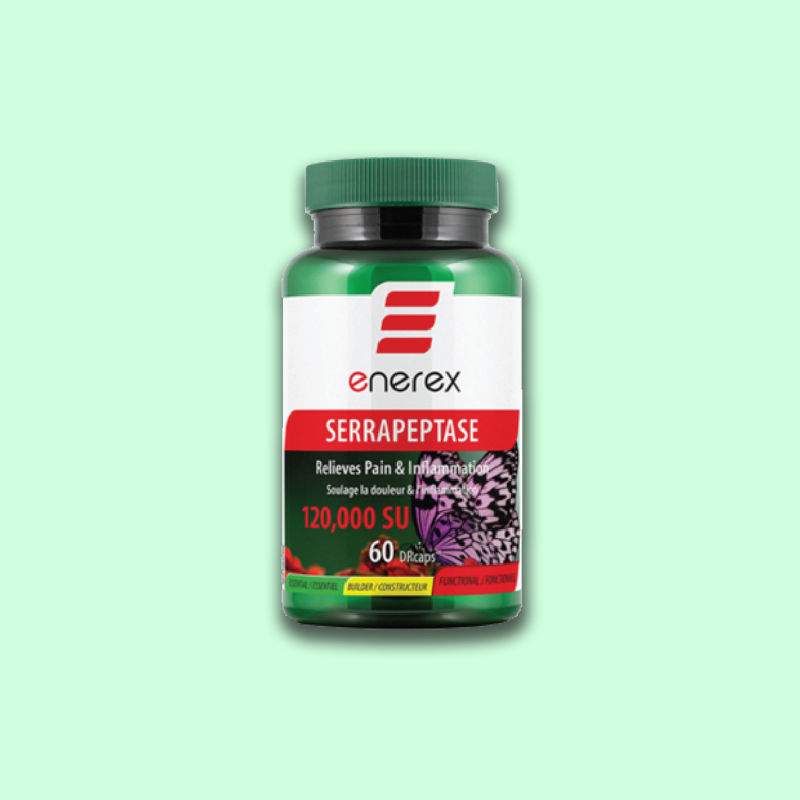 ---
Natural alternative to salicylates, ibuprofen and other NSAIDs.
Common treatment for inflammatory and traumatic swellings in Germany and other European countries.
What is Serrapeptase?
Serrapeptase, also known as Serratia Peptidase, is a proteolytic enzyme isolated from the non-pathogenic enterobacteria Serratia E15. When consumed in unprotected tablets or capsules, the enzyme is destroyed by acid in the stomach. However,
Enerex's special enteric-coated preparation enables the enzyme to pass through the stomach unchanged, and be absorbed in the intestine.
Serrapeptase is found in negligible amounts in the urine, suggesting that it is transported directly from the intestine into the bloodstream.
What are the functions of Serrapeptase?
Clinical studies show that serrapeptase induces fibrinolytic, anti-inflammatory and anti-edemic (prevents swelling and fluid retention) activity in a number of tissues, and that its anti-inflammatory effects are superior to other proteolytic enzymes.
Besides reducing inflammation, one of serrapeptase's most profound benefits is reduction of pain, due to its ability to block the release of pain-inducing amines from inflamed tissues. Physicians throughout Asia and Europe have recognized the anti-inflammatory and pain-blocking benefits of this naturally occurring substance and are using it in treatment as an alternative to salicylates, ibuprofen and other NSAIDs.
In Germany and other European countries, serrapeptase is a common treatment for inflammatory and traumatic swellings, and much of the research that exists on this substance is of European origin. One double-blind study was conducted by German researchers to determine the effect of serrapeptase on post-operative swelling and pain. This study involved sixty-six patients who were treated surgically for fresh rupture of the lateral collateral ligament of the knee. On the third post-operative day, the group receiving serrapeptase exhibited a 50 percent reduction of swelling, compared to the controls. The patients receiving serrapeptase also became more rapidly pain-free than the controls, and by the tenth day, the pain had disappeared completely.
Ingredients of Enerex Serrapeptase
Each vegetarian enteric coated capsule contains:
Medicinal Ingredient:
Serratia Peptidase Enzyme (120,000 units) - 60 mg
Non-Medicinal Ingredients:
White rice flour
Vegetarian Capsule: cellulose complex
---
More from this collection