BiosenseClinical Therapeutic Scalp Serum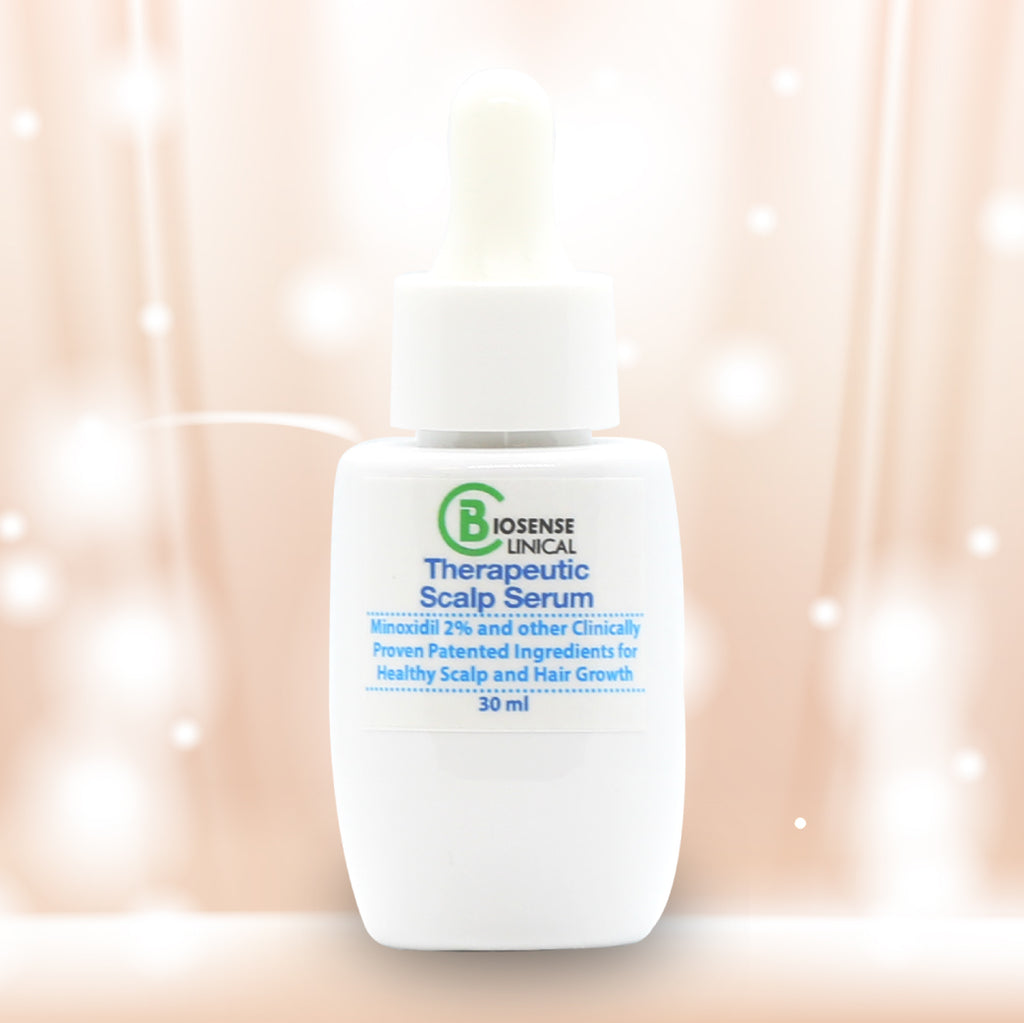 ---
Clinical formulation combining the synergistic power of minoxidil, patented ingredients and therapeutic grade essential oils for healthy scalp and hair growth
Features:
Powerful formula harnessing the power of minoxidil, peptide, patented ingredients, nutraceuticals and clinical grade essential oils to stimulate hair growth and nourish the scalp and hair follicles
Promotes hair regrowth, hair follicles health at cellular level
Restores the hair bed – scalp to promote and enhance hair growth
Very powerful formula with highest percentages used
Ingredients highlights:
Science
Minoxidil 2%USP

Stimulates and improves hair growth
Increases blood flow to the scalp and normalizes hair follicles
Peptide (Highest percentage used)
Acetyl Tetrapeptide-3

High efficacy peptide improves hair follicle length by 35% after only 8 days of use
Provides thicker and fuller looking hair
Bioactive Plant Extract
Trifolium Pratense Flower Extract

Rich in biochanin A - effective in inhibiting 5-alpha reductase (hormone that induces hair loss)
Nutraceuticals
Coenzyme Q10

Powerful antioxidant to protect and repair cells of hair follicle and scalp from inside out

Vitamin C

Vitamin E
Essential Oils
Lavender essential oil

Helps to balance scalp oils
Reduces inflammation, soothes and nourishes scalp
Cederwood essential oil

Promotes hair growth by simulating the scalp
Rosemary essential oil

Helps to stimulates hair growth
Menthol (natural)

Contains peppermint that helps to stimulate hair follicles for growth
Direction of use:
Apply to affected scalp area twice daily
Advice:
Do not use any other skin products on the same area where minoxidil is applied
Do not use 24 hours before and after the hair treatment procedure
Hair coloring and hair permanents may be used as long as the scalp is washed before applying the hair coloring and permanent.
Ensure hair and scalp are completely dry before applying
Do not shampoo your hair for 4 hours after application
Wash hands immediately after use to remove any residual minoxidil
Do not use a hairdryer to dry the scalp after applying the scalp serum
Minoxidil may stain clothing or bed linen if hair or scalp is not completely dry after use
Consult your practitioner before use if you have heart disease
Precaution:
For external use only
Do not apply to other parts of body
Do not contact eyes, mouth, nose, or other mucous membranes
Store away from heat, moisture and direct light
Keep out of the reach of children
Keep away from fire or flame
Potential side effects:
Changes in hair color and/or texture may occur
Discontinue use if experiencing continued itching, redness or burning of scalp after application.
Reference: Clin Pharm. 1987 May;6(5):386-92.
---
More from this collection