VitaAid OptiFort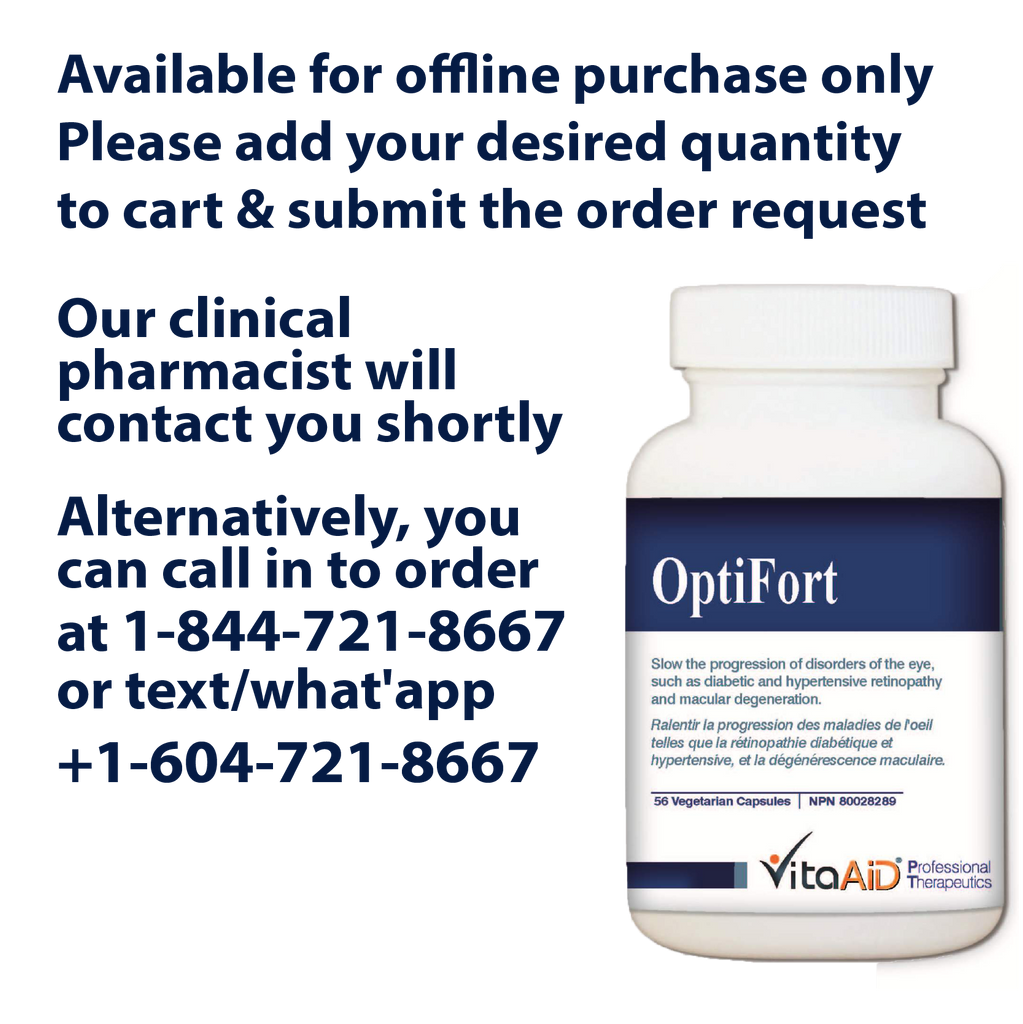 ---
Antioxidants, vitamins and minerals for improvement of vision, age related macular degeneration (AMD) and cataracts
OptiFort is a synergistic formula specifically designed to improve visual acuity and eye fatigue, slow the progression of disorders of the eye.
Contains free form lutein and zeaxanthin - the only two antioxidants in eyes for protection of macula and lens from UV and other free radicals.
Free form lutein has higher bioavailability than the ester form lutein.
Contains clinical proven dosage ratio of essential antioxidants for eyes that help to prevent age-related macular degeneration, cataracts, glaucoma and retinopathy.
Laberatory certified Vaccinium myrtillus contains 36% anthocyanosides that improve night vision via resynthesis of rhodopsin in rod cells, modulation of retinal enzyme activity, and improvement of microcirculation.
Helps prevent the diabetic retinopathy.
Suggested Use:
Adults - Take 2 to 4 capsules daily or as directed by a health care practitioner.
Caution:
Consult a health care practitioner prior to use if pregnant or breastfeeding.
Supplement facts
Bilberry Extract 100:1 (Vaccinium myrtillus).....80 mg (fruit) (standardized min. 25% anthocyanidins, 36% anthocyanosides)

Lutein (isolated from marigold flower (Tagetes erecta).....6 mg (FloraGLOR) (petals)

Vitamin A (from vitamin A acetate).....1000 IU (equivalent to 300 mcg vitamin A)

Vitamin C (from calcium ascorbate).....60 mg

Vitamin E (from d-alpha tocopheryl acetate).....30 IU (equivalent to 20.1 mg d-alpha tocopherol)

Zinc (from zinc gluconate).....5 mg
Non-medicinal Ingredients:
Organic apple fiber, silicon dioxide, L-leucine, pullulan/hypromellose (capsule)
---
*VitaAid is offered available through professional clinician only.
*These statements have not been evaluated by the Food and Drug Administration. This product is not intended to diagnose, treat, cure, or prevent any disease.
---
More from this collection