NICORETTE FRUIT FLAVOR GUM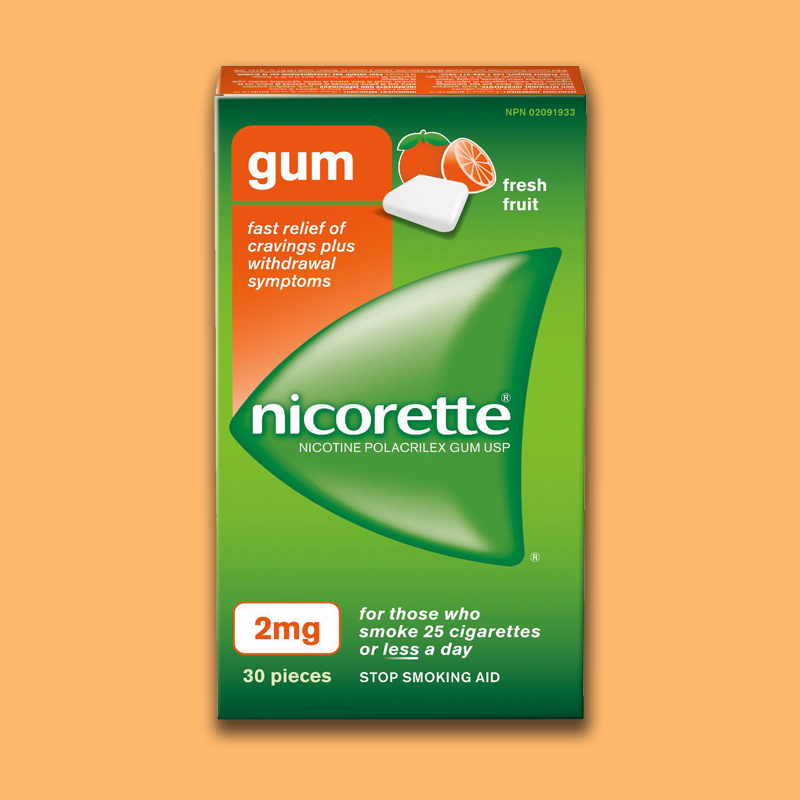 ---
Nicorette Fruit Flavor Gum is now coated and has whitening!
Nicorette is a medicine which can help you stop smoking by reducing withdrawal symptoms and nicotine cravings. Nicotine chewing gum should be used together with a smoking cessation program, which may include support groups, counseling, or specific behavioral change techniques.
Warning
Before using nicotine gum, inform your doctor if you are using other prescription or over the counter medications, such as insulin; medications for asthma; medications for depression; medications for high blood pressure; and other medications to help you quit smoking.
Inform your doctor if you have or have ever had a heart attack, heart disease, irregular heart rate, ulcers, diabetes, or high blood pressure not controlled by medication
Tell your doctor if you are pregnant, plan to become pregnant, or are breast-feeding.
Do not smoke cigarettes or use other nicotine products while using nicotine gum
Directions
If you smoke your first cigarette more than 30 minutes after waking up, use the 2-mg gum. People who smoke their first cigarette within 30 minutes of waking up should use the 4-mg gum. Nicotine gum may be used regularly by chewing one piece of gum every 1 to 2 hours for the first 6 weeks, followed by one piece every 2 to 4 hours for 3 weeks, and then one piece every 4 to 8 hours for 3 weeks. If you have strong or frequent cravings, you may chew a second piece within one hour. To improve your chances of quitting smoking, chew at least 9 pieces of nicotine gum each day for the first 6 weeks.
Do not chew more than 24 pieces a day. You should stop using nicotine gum after 12 weeks of use. If you still feel the need to use nicotine gum after 12 weeks, talk to your doctor.
Active ingredient:
2 mg or 4 mg of nicotine per gum
---
More from this collection