BiosenseClinical B12 Regenerating Mask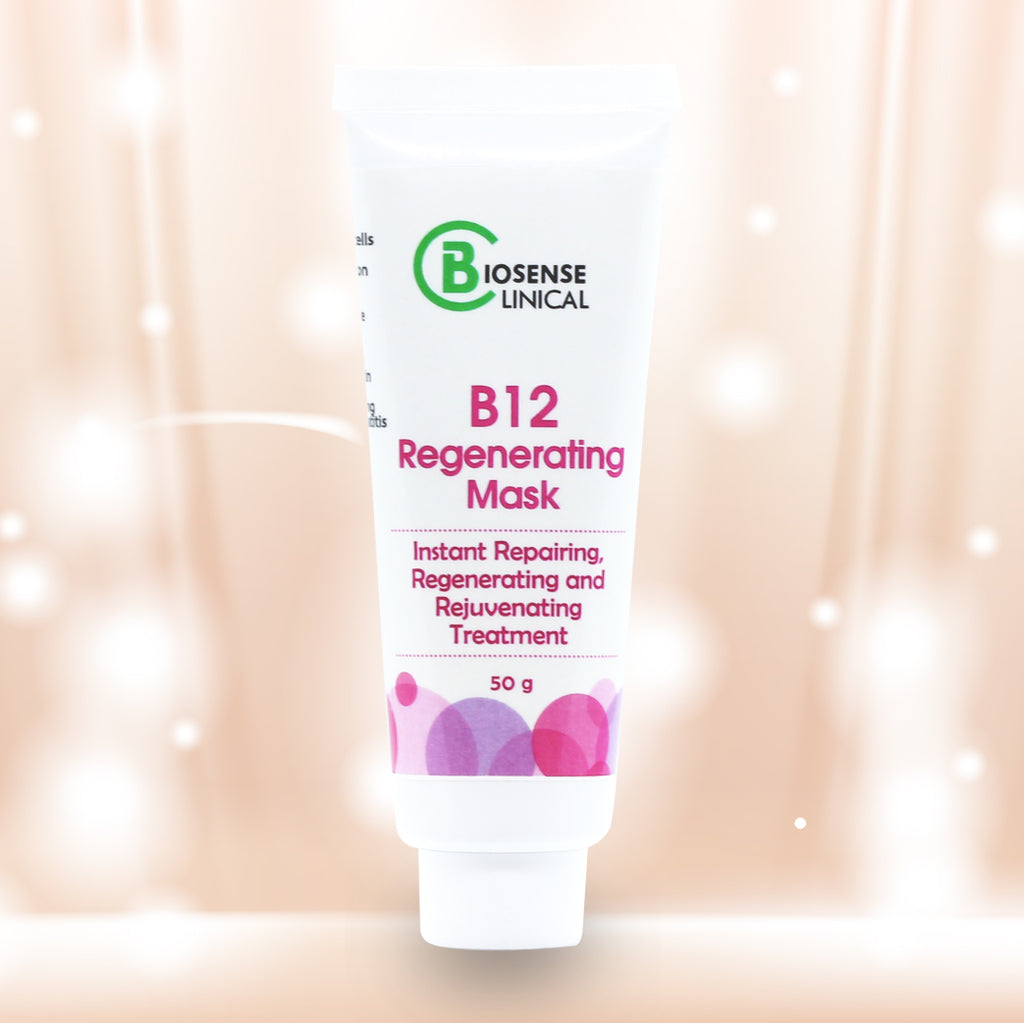 ---
Instant Repairing, Regenerating and Rejuvenating Treatment
Features:
Instantly repair, regenerates skin cells
Optimizes hydration level of skin
Restores protective barrier of skin
Helps to calm and soothe irritated skin even for skin conditions including eczema and dermatitis
Fast relief of skin irritations
Ingredients highlights:
Epilobium Angustifolium extract
Clinically proven to relieve skin irritation quickly
Chamomile extract
Helps to restore suppleness of skin
Helps to reduce inflammation, redness and provides soothing effects
Premium Manuka honey extract
Improves skin barrier and leaves skin soft and smooth
Clinical evidences demonstrate the benefits of Manuka honey in wound healing
Tremella Fuciformis (mushroom) extract
Natural form of hyaluronic acid moisturizes and revitalizes skin cells
Study demonstrated it helps with wound healing, reducing redness and inflammation
Vitamin B12 (methylcobalamin)
Regenerates, repairs and rejuvenates skin cells
Helps to relieve symptoms related to chronic skin condition (e.g. eczema or dermatitis)
Hyaluronic acid
Forms a barrier on the skin surface to protect skin from drying out. Attracts and retains more than 1000x its weight in water -> super hydrating effect to minimize dryness, fine lines and wrinkles
Allantoin
Helps to increase water content of skin and therefore reduces irritation and redness
A study involving a large number of women demonstrated significant improvement of skin problems on hands after using a allantoin 0.2% containing product
Special Ceramide Complex
Improves skin barrier repair and hydration
Supplies dry and chapped skin with structural elements and helps to build up the lipid barrier of the horny layer of the epidermis
Vitamin B3
Strengthens top layer of skin (strata corneum) to prevent water loss
Helps to reduce inflammation
Helps to reduce hyperpigmentation
Panthenol (Vitamin B5)
Study demonstrates panthenol maintains skin moisture and reducing transepidermal water loss
Directions:
Apply a layer on cleansed face and neck area. Leave on for 15-20 minutes. Rinse off with water.
Precaution:
Store below 30℃
Keep out of reach of children
For external use only
---
More from this collection