BioZkin Baby Vitamin D Drops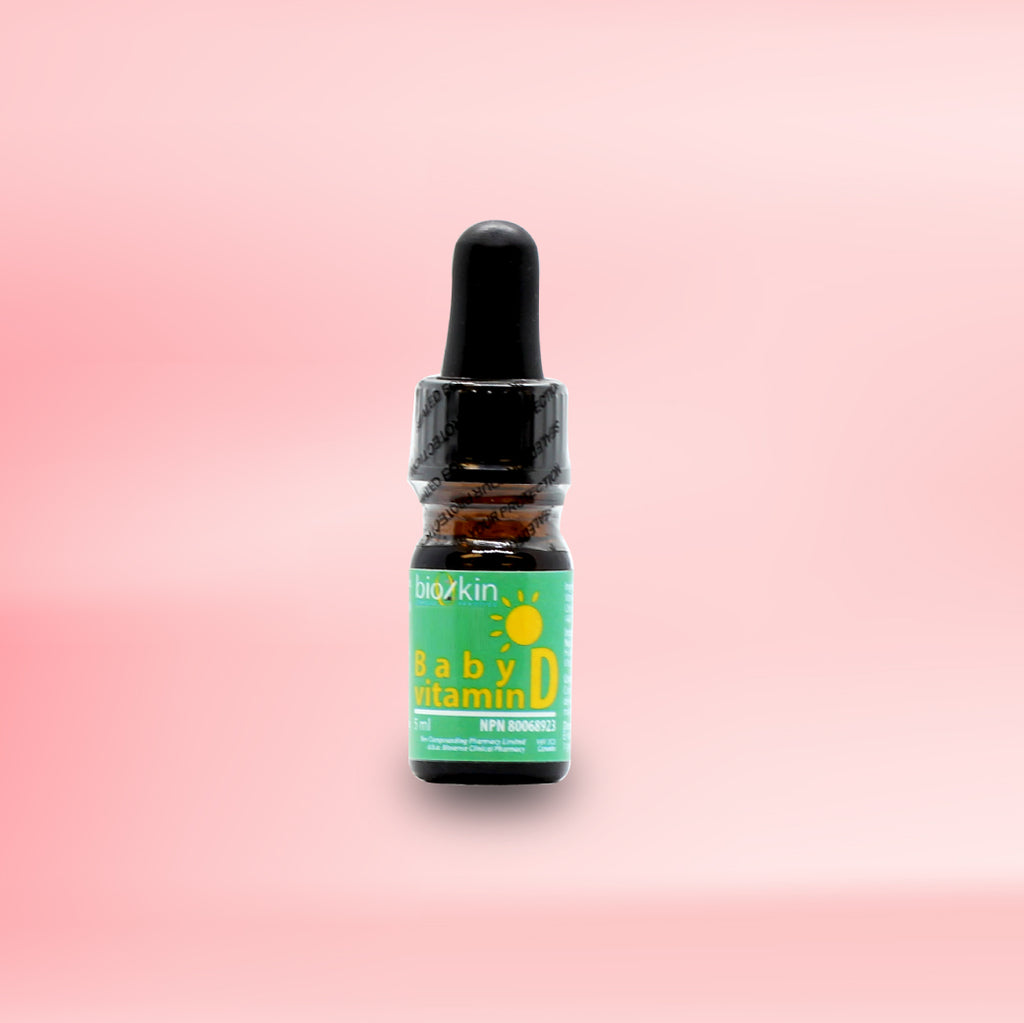 ---
NPN 80068923: Health Canada Licensed Natural Health Product
Why is vitamin D important for babies and children?
The sunshine vitamin, vitamin D, is an important vitamin that all babies and children should be taking.
It is essential for good bone health.
It is extremely important for breastfed infants as breast milk only contains small amounts of vitamin D.
Your babies need vitamin D to absorb calcium and phosphorus. Deficiency of vitamin D can seriously affect growth and development. (e.g. rickets- a disease of softening and weakening of bones).
Health Canada, the Canadian Pediatric Society and the American Academy of Pediatrics recommend breastfed infants or infants consuming less than 1 liter (just under 33.8 ounces) of infant formula per day receive 400 IU vitamin D per day. Infants under 1 year old should avoid direct sunlight due to risk of skin cancer.
Vitamin D is not just for bones...
Studies have found that vitamin D deficiency is widespread. Studies suggest that as many as 85% of Canadians may have dangerously low levels of vitamin D during our long winters. 1 in 10 children in the United States is estimated to be deficient. 60% children may have suboptimal levels of vitamin D. Low vitamin D level has been linked to increase a child's risk of asthma, allergies, and anemia..
The BioZkin difference
Contains NO preservatives, added color, sweeteners, wheat, gluten, dairy, yeast, artificial flavor, soy, corn, sugar, milk, nut
No unpleasant taste
Easy to give – 1 drop is all you need
Vegetarian friendly
GMP certified
Recommended Usage:
For maintenance of good health and development of bones and teeth. Aids in the absorption and use of calcium and phosphorus.
Recommended Dosage:
1 drop per day preferably with food
Medicinal Ingredient:
Vitamin D3 (Vitamin D, Cholecalficerol) 10mcg (400 IU) per drop – Naturally derived, biologically active.
Non-Medicinal Ingredients:
Sunflower Oil and Vitamin E – a stable and healthy natural base solution.
Store tightly sealed in a cool, dry and dark place.
Keep out of reach of children.
Vegetarian friendly.
---
More from this collection