VitaAid XenobioX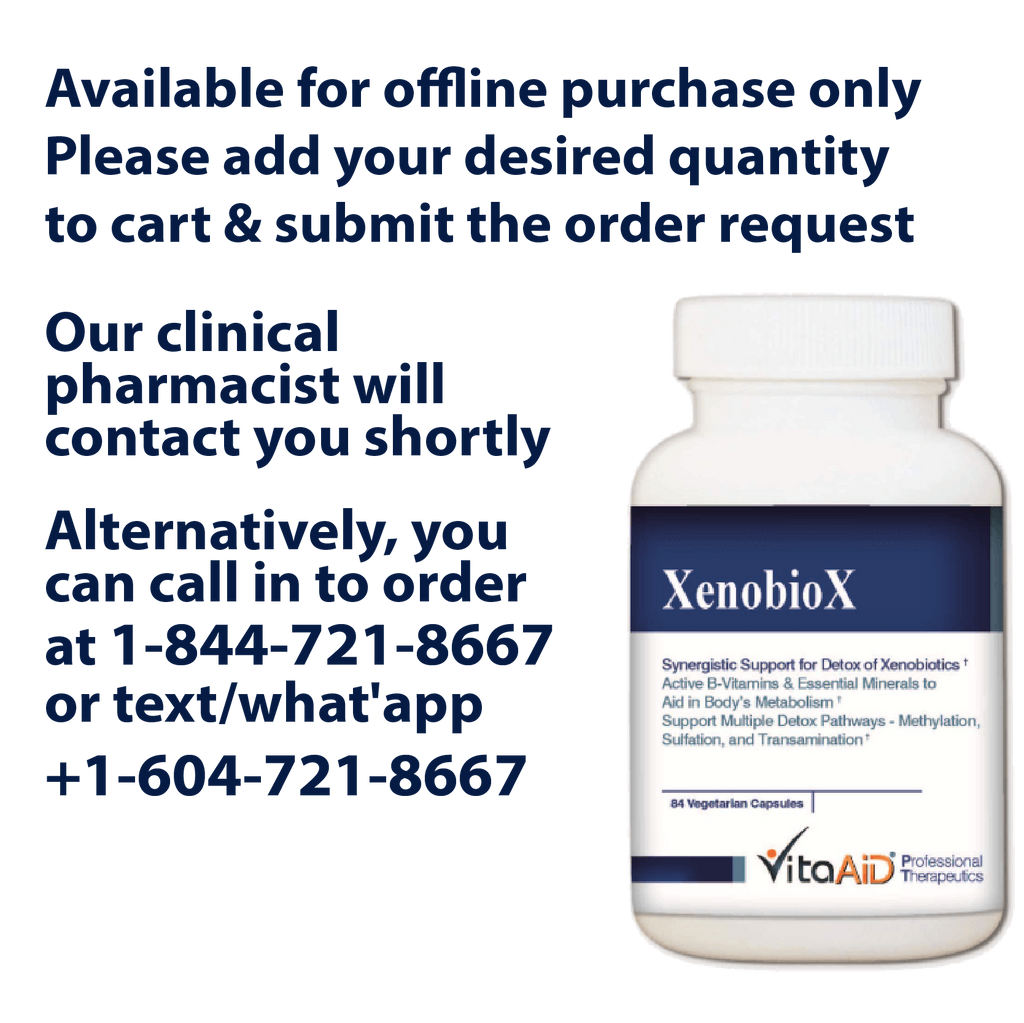 ---
Synergistic Support for Xenobiotic Detox
Xenobiotics are a group of chemical substances that are NOT naturally produced or expected to be present within our body. They may be grouped as drugs, pollutants, heavy metals, food additives, and herbicides/pesticides.
Xenobiotics affect our health profoundly as they can impact many biochemical pathways in our body, such as disrupting the endocrine system, inhibiting important rate-limiting enzymes, generating free radicals, and damaging genetic materials.
Though our body packs various detoxification mechanisms, chronic exposure to xenobiotics can attenuate our detox ability as many vital nutrients are depleted and genetic materials are damaged.
XenobioX is a synergistic formulation to provide support for xenobiotic detoxification. By providing the active B-vitamins, essential minerals and amino acids, it helps to enhance the detoxification pathways (ie. hydroxylation, methylation, sulfation, deamination/ transamination, glutathione-conjugation, glucuronidation), as well as nourish the collateral pathways of the methylation cycle (ie. sulfite, COMT/MAO, histamine, SOD/GST).
Key Features:
Active B-vitamins & essential minerals - support Phases 1 & 2 detox and prevent the overload of toxic/reactive metabolites
D-glucarate - supports glucuronidation & reduces xenobioticmetabolites from being recycled
NAC & Selenium - quench reactive oxygen species
Support the collateral metabolic pathways of the methylation cycle and reduce the symptoms caused by the metabolic overload from methylation enhancement, such as anxiety, sulfite sensitivity, histamine intolerance & allergic reactions, insomnia & fatigue, GI Upset, and memory decline.
Suggested Use:
Adults - Take 2 capsules with food, 1-2 times a day, or as directed by your health care practitioner. Take a few hours before or after taking other medications.
Caution
Consult a health care practitioner prior to use if you have kidney stones; if you are pregnant or breastfeeding; if you are taking antibiotics; or if you are taking nitroglycerin.
Supplement facts (per 2 capsules):
Vitamin B1 (from thiamine HCl).....30 mg

Vitamin B2 (from riboflavin-5'-phosphate).....20 mg

Niacinamide.....50 mg

Vitamin B5 (from calcium d-pantothenate).....50 mg

Vitamin B6 (from calcium pyridoxal-5'-phosphate).....40 mg

5-MTHF (from calcium 5-methylfolate).....800 mcg

Vitamin B12 (methylcobalamin).....600 mcg

Zinc (from zinc bisglycinate).....20 mg

Molybdenum (from molybdenum glycinate).....200 mcg

Selenium (from selenium bisglycinate).....400 mcg

N-Acetyl-L-Cysteine.....500 mg

D-Glucarate (from calcium d-glucarate).....350 mg

Betaine Anhydrous.....150 mg

Other Ingredients:

Silicon dioxide, L-Leucine, pullulan/hypromellose (capsule)
*VitaAid is offered available through professional clinician only.
*These statements have not been evaluated by the Food and Drug Administration. This product is not intended to diagnose, treat, cure, or prevent any disease.
---
More from this collection