VitaAid Bio-B5 Forte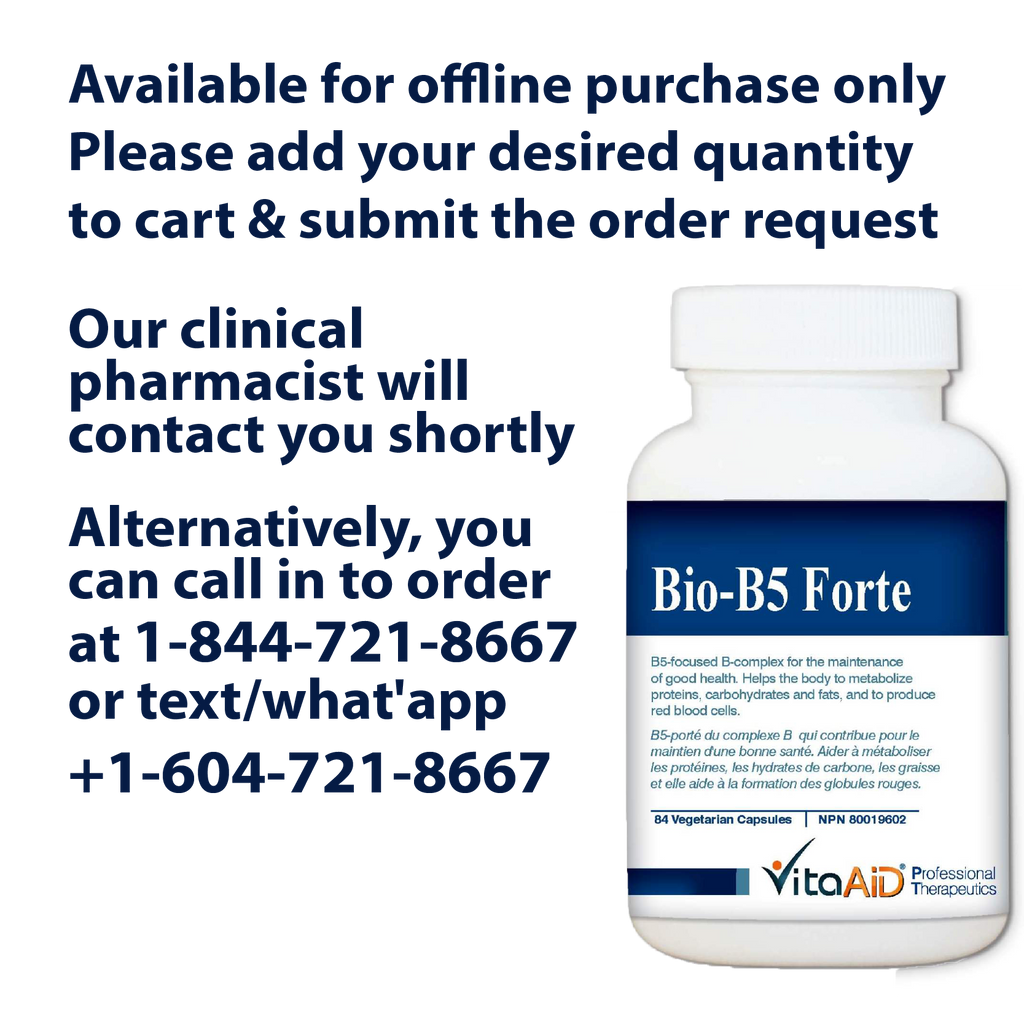 ---
Restore body's depleted energy, support the adrenal function, and increase the body's ability to cope with stress
Bio-B5 Forte is formulated to specifically restore body's depleted energy, support the adrenal function, and hereby increase the body's ability to cope with stress.
Pantothenic acid is a vital component of coenzyme A, which is involved in the metabolism of proteins, fats, and carbohydrates and production in energy. B5, hence, is especially important for individuals with chronic fatigue syndrome.
Supplies active vitamins B2, B6, B9, and B12 in optimal ratios of stable and active forms to ensure readily supplementation to the metabolic system.
Suggested Use:
Adults - Take 1 capsule per day with meals, or as directed by a health care practitioner.
Caution:
None
Supplement facts: (per capsule)
Vitamin B1 (from thiamine mononitrate).....50 mg

Vitamin B2 (from riboflavin & riboflavin-5-phospate (Na salt)).....30 mg

Vitamin B3 (as niacinamide (65 mg) & nicotinic acid (15 mg)).....80 mg

Vitamin B5 (from Ca d-pantothenate).....250 mg

Vitamin B6 (from pyridoxine HCl & pyridoxal-5-phosphate).....20 mg

Vitamin B12 (as methylcobalamin).....150 mcg

Biotin (as d-biotin).....100 mcg

Folate (folacin and 5-methyltetrahydrofolate).....200 mcg

Choline (from choline bitartrate).....45 mg

Inositol.....15 mg
Non-medicinal Ingredients:
L-leucine, silicon dioxide, pullulan/hypromellose
---
*VitaAid is offered available through professional clinician only.
*These statements have not been evaluated by the Food and Drug Administration. This product is not intended to diagnose, treat, cure, or prevent any disease.
---
More from this collection