Refresh Optive Advanced Sensitive Lubricant Eye Drops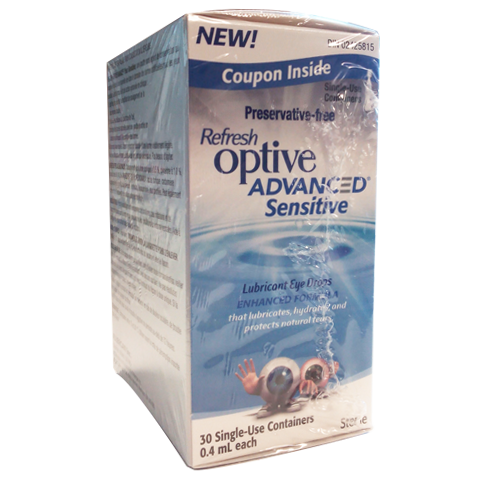 ---
REFRESH OPTIVE ADVANCED® Sensitive Lubricant Eye Drops, a preservative-free, go-to drop that marks a new era in artificial tears for sensitive eyes. this clinically proven triple-action formula:
Lubricates for moisturizing dry eye relief
Hydrates the eye surface cells
Protects your natural tears with a lipid-enhanced drop by reducing tear evaporation
Now you can have long-lasting comfort in a visibly light tear.
Safe for use as often as needed. No shaking required.
Indications:
For the temporary relief of burning, irritation, and discomfort due to dryness of the eye or due to environmental conditions. Helps to protect against further irritation.
Directions:
To open, Twist and Pull Tab to Remove. Instill 1 to 2 drops in the affected eye(s) as needed and discard container.
Medicinal ingredients:
Carboxymethylcellulose sodium 0.5%. Glycerine 1%, Polysorbate 80 0.5%
Non-Medicinal ingredients:
boric acid, carbomer copolymer type A, castor oil, erythritol, levocarnitine, purified water. May also contain sodium hydroxide to adjust pH.
Warnings:
For external use only. To avoid contamination, do not touch tip of container to any surface. Do not reuse. Once opened, discard. Do not touch unit-dose tip to eye. If solution changes colour, do not use.
If you experience eye pain, changes in vision, continued redness or irritation of the eye, or it the condition worsens or persists for more than 72 hours, discontinue use and consult a physician.
Note: Store at 15-30C. Use before expiration date marked on container.
---
More from this collection