Refresh Celluvisc Lubricant Eye Drops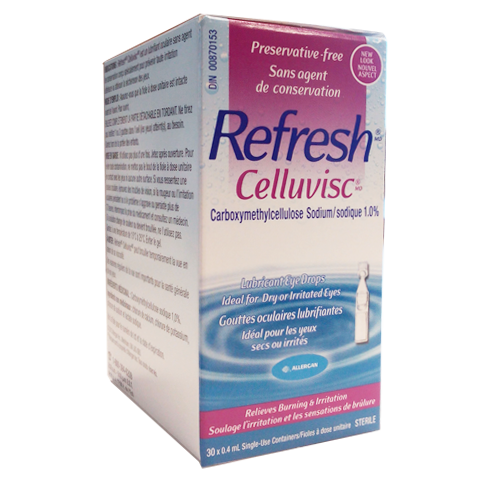 ---
Refresh Celluvisc
Ideal for dry or irritated eyes
Relieves burning and irritation
Indications:
Refresh Celluvisc is a preservative free eye lubricant formulated specifically for patients to help protect against further irritation or to relieve dryness of the eye.
Directions:
Ensure unit-dose container is intact before opening. To open, completely Twisted Off Tab. Do not pull. Instill 1 or 2 drops in the affected eye(s) as needed. Keep out of reach of children.
Warnings:
For external use only. To avoid contamination, do not touch tip of container to any surface. Do not reuse. Once opened, discard. Do not touch unit-dose tip to eye. If solution changes colour or becomes cloudy, do not use.
If you experience eye pain, changes in vision, continued redness or irritation of the eye, or it the condition worsens or persists for more than 72 hours, discontinue use and consult a physician.
Storage:
Store at 15 to 25 C. Do not freeze.
Note: Refresh Celluvisc may cause temporary blurring due to its viscosity.
Regular eye examinations are important to the overall health of your eyes.
Medicinal ingredients:
Carboxymethylcellulose 1%
Non-medicinal ingredients:
calcium chloride, potassium chloride, sodium chloride and sodium lactate
---
More from this collection