MucosaHeal (Imix Naturals)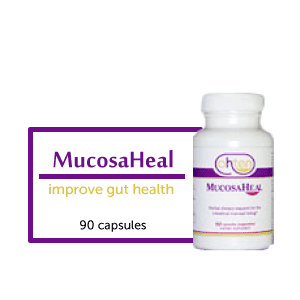 ---
MucosaHeal provides demulcent and mucilage activity for the gastrointestinal tract and mucosal lining. It helps to improve gut health and hence beneficial in chronic inflammatory bowel disease.
Use of MucosaHeal should vary according to the severity of symptoms you're experiencing. Many natural health professionals classify severe symptoms as those including intestinal bleeding and severe inflammation. Moderate symptoms are classed as those including minimal or sporadic intestinal bleeding and moderate inflammation.
Direction of Use
MucosaHeal must always be taken on an empty stomach (1/2 hour before meals, or 2 hours after). If you can't swallow pills, you can empty the contents of the capsules into water, or a non-acidic juice like apple or pear, mix well and drink on an empty stomach.
To help with severe symptoms: Take 2 capsules on an empty stomach, 3 times a day. Then take 3 capsules on an empty stomach right before bed. Ideally, empty your bowels before taking the 3 capsules at night.
To help with moderate symptoms: Take 1 capsule 3 times per day, on an empty stomach. Then take 3 capsules on an empty stomach right before bed. Ideally, empty your bowels before taking the 3 capsules at night.
Maintenance: Once your major symptoms concerns have been resolved, or if your symptoms are mild to begin with, take 3 capsules before bed, on an empty stomach. Ideally, empty your bowels first.
Active ingredients:
Deglycyrrhizinated licorice:
A study published in BMJ demonstrates DGL as an effective potential alternative to OTC stomach ulcer medication.
Slippery elm:
contains mucilage, a substance that becomes a slick gel when mixed with water. It coats and soothes the mouth, throat, stomach, and intestines. It also contains antioxidants that help relieve inflammatory bowel conditions. Slippery elm causes reflux stimulation of nerve endings in the gastrointestinal tract leading to increased mucus secretion. The increased mucus production may protect the gastrointestinal tract against ulcers and excess acidity.
Marshmallow root:
Recent study indicated that marshmallow preparations help soothe irritated mucous membranes due to asthma, bronchitis, inflammatory bowel diseases (such as Crohn's disease and ulcerative colitis), indigestion, stomach ulcers
N-acetyl glucosamine:
might help to protect the lining of the stomach and intestines.
Supplement fact (per 3 capsules):
N-Acetyl Glucosamine - 600 mg
Deglycyrrhizinated Licorice Root Extract 4:1 - 300 mg
Slippery Elm Bark - 300 mg
Marshmallow Root - 300 mg
Other ingredients: Vegetable capsule (vegetable fiber and water)
*These statements have not been evaluated by the FDA. This product is not intended to diagnose, treat, cure, or prevent any disease.
---
More from this collection