Ilike Toner - Stonecrop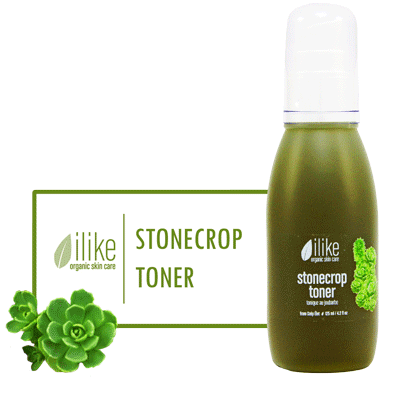 ---
certified organic with no parabens or other synthetics
harvested and processed by hand to ensure delicate plant structure not damaged
cold processed fruits, vegetables and herbs converted into pulps not extracts! to retain the full concentration and power of the herbs
the original made in Hungary for over 50 years
The alcohol free Stonecrop Toner from ilike organic skin care calms and refreshes sensitive and pigmented skin while tightening the pores and brightening the complexion.
Skin Types / Skin Conditions:
sunburn
dry skin
normal/combination skin
oily skin
skin sensitivity
acne, seborrhea
chloasma, age spots or other blemishes
male skin conditions
inflamed follicles after waxing or shaving
all skin types
hyper-pigmentation
acne, clogged pores
oily- or dry seborrhea
dehydrated, dry skin
premature aging
after sun treatments
after waxing
men's skin
face & body
Effects:
tones and cleans
regenerates
hydrates
refreshes
evens out the porosity of the skin
brightens the complexion
Directions for application:
To hydrate:
simply spray toner onto the skin (several times a day).
To cleanse:
apply toner over entire skin surface with a cotton pad and leave on. Use after cleansing milk or mask to remove excess products. Toning is important to balance the natural pH of the skin and to infuse it with natural vitamins and minerals. Skin will be rejuvenated, pores will be evened for better moisture absorption, and you can enjoy the aromatherapy benefits of the real fruits and herbs.
Use twice a day after cleansing or mask to remove excess products, or anytime your skin needs to be refreshed. Follow with a moisturizer possibly supplemented with a serum.
Ingredients:
Stonecrop, Aloe, Citric Acids, Malic Acid, Malonic Acid, Free Amino Acids, Phenol Carbonic Acids, Vitamin C, Bioflavonoids, Pectins, Proteolitic Enzymes, Lignin, Carbohydrates, Carotenoids, Chlorophyll, Plant Protein, Mineral Salts, Trace Elements
---
More from this collection