VitaAid Supreme-PB30+ DF (Dairy-Free with FOS)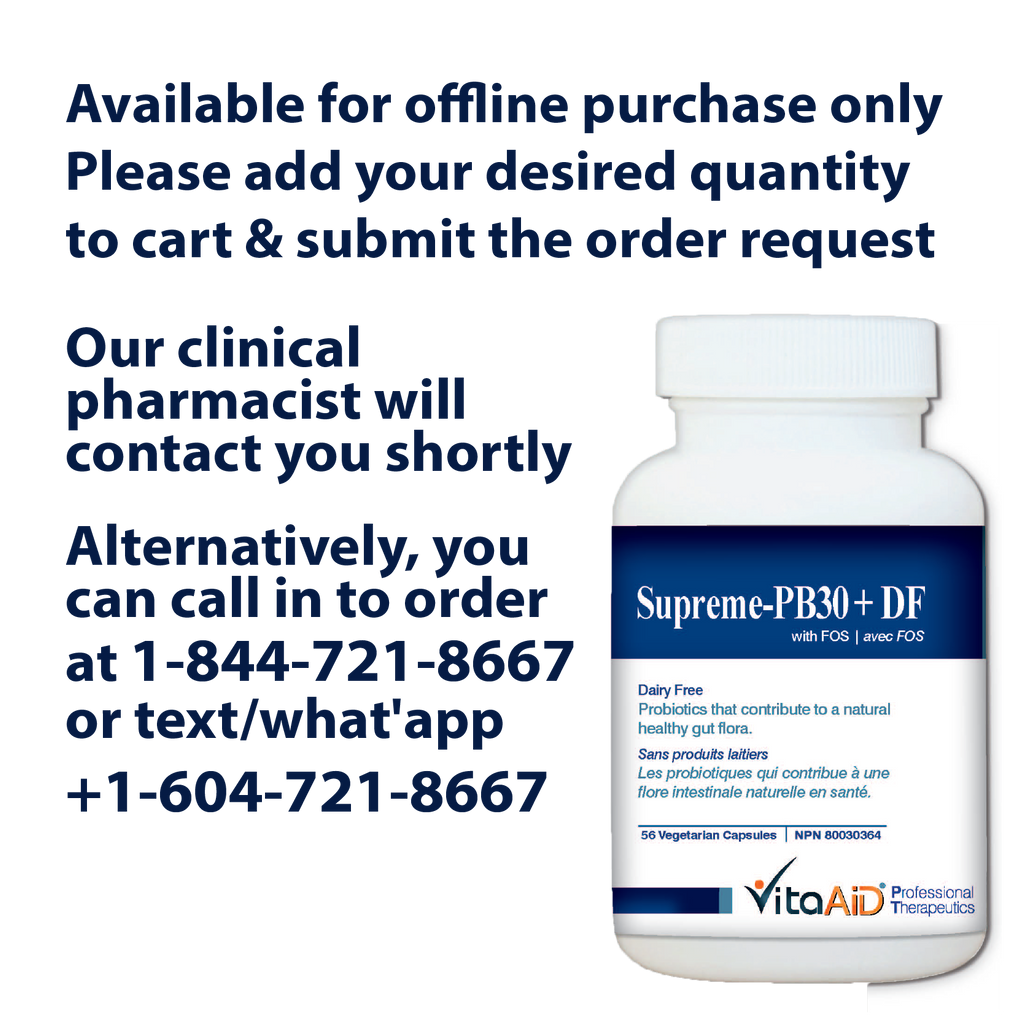 ---
Multi-strain/ Dairy Free Probiotic formula
Supreme-PB30+ DF is a Dairy Free probiotic formula that contains 55 billion viable cells comprised of 6 species of human gut-anchoring probiotics to ensure successful establishment in each of their particular niche.
55 billion active cells per capsule upon manufacturing.
Bifidobacterium lactis Bl-04 is shown in RCT to significantly reduce the risk of upper respiratory tract infections by 27%.
Carefully selected strains with complete resistance tests (22 antibiotics); all genomes are ATCC-registered.
All strains are acid- and bile-resistant, ensuring their passage through the entire GI tract while helping inhibit H. pylori infections.
Clinically proven to anchor and colonize at the human gut linings to improve dysbiosis-associated symptoms (eg. diarrhea, bloating, and allergic reactions) caused by antibiotics and other GI disorders.
Provides formulas with prebiotic (FOS)
Suggested Use:
Take 1 capsule 3 times per day, or use as directed by a health care practitioner. Take at least 2-3 hours before or after antibiotics. For children under 6 years old, please open the capsule and administer the powder form.
Caution:
Consult a healthcare practitioner if you are experiencing nausea, fever, vomiting, bloody diarrhea or severe abdominal pain. Consult a health care practitioner if symptoms of digestive upset (eg. diarrhoea) occur, worsen, or persist beyond 3 days. Do not use if you have an immunecompromised condition (eg. AIDS, lymphoma, long-term corticosteroid treatment).
Supplement facts (per capsule)
Lactobacillus acidophilus La-14.....5 billion cfu

Lactobacillus rhamnosus Rs-11.....2.5 bllion cfu

Bifidobacterium bifidum Bb-06.....2.5 billion cfu

Bifidobacterium lactis Bl-04.....10 billion cfu

Lactobacillus casei Lc-11.....8 billion cfu

Streptococcus thermophilus St-21.....2 billion cfu

May contain up to 55 billion viable cells per capsule at the time of manufacture.
Non-medicinal Ingredients:
L-Leucine, fructo-oligosaccharides (FOS) / maltodextrin, pullulan/ hypromellose (capsule)
---
*VitaAid is offered available through professional clinician only.
*These statements have not been evaluated by the Food and Drug Administration. This product is not intended to diagnose, treat, cure, or prevent any disease.
---
More from this collection