VitaAid Hemotonin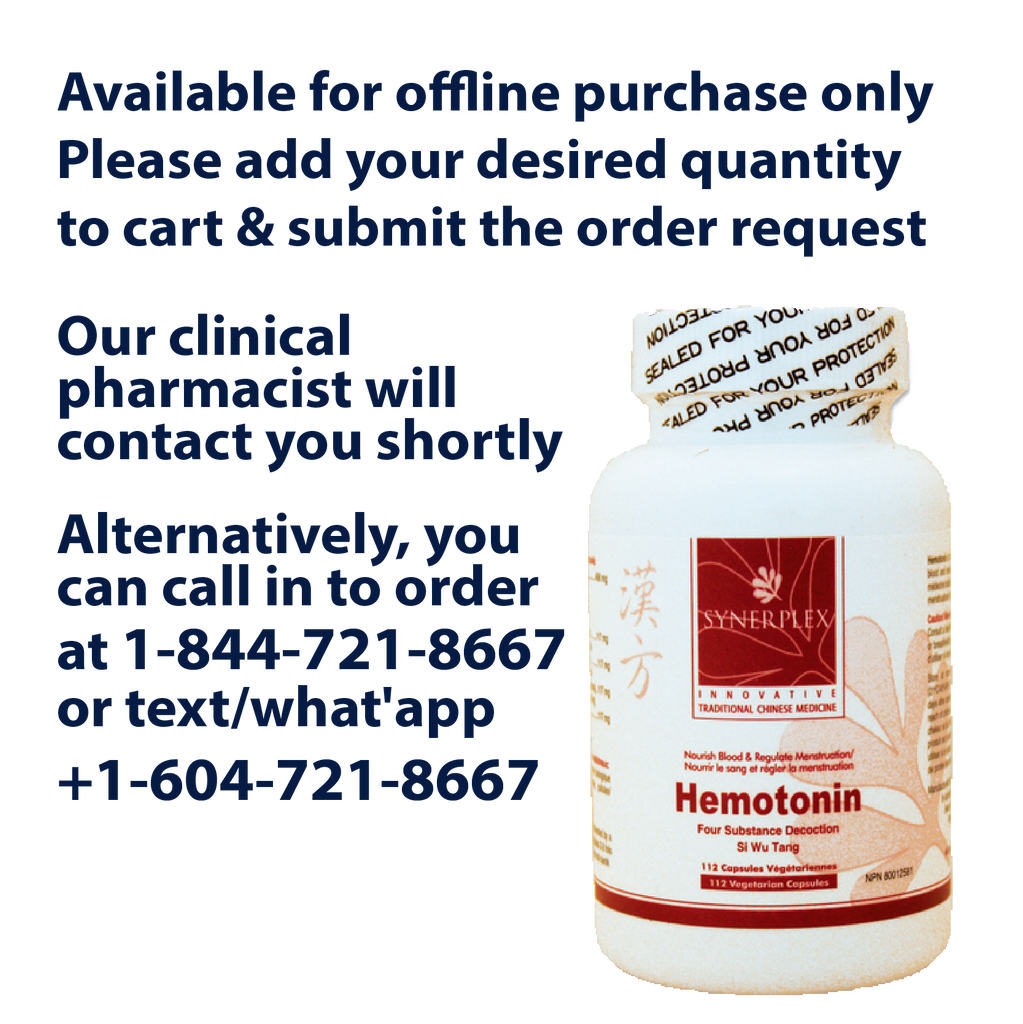 ---
Tonifies the Blood and Regulates the Liver Supports Blood Deficiency and Regulates Menstruation.
All herbs in Hemotonin enter the blood level. Di Huang, the chief herb, tonifies the blood, as well as Kidney, which produces the marrow to increase hemopoiesis.
On the other hand, it is imperative to move the blood to prevent stasis after tonifying the blood; Dang Gui enhances blood circulation and tonifi es the blood - nourishing the Liver and regulates the menses.
Bai Shao nourishes the blood and consolidates yin while Chuan Xiong assists Dang Gui promoting blood circulation.
Suggested Use:
Adults - Take 4 capsules, 2-3 times a day, with food, or as directed by a health care practitioner.
Caution:
Consult a healthcare practitioner prior to use if you are pregnant and breastfeeding.
Supplement facts: (per capsule)
Si Wu Tang Extract 8:1..........468 mg (per capsule) (equivalent to 3.74 g of dried crude ingredients)

Dang Gui (Angelica sinensis) (root).....117 mg

Bai Shao (Paeonia lactiflora) (root).....117 mg

Chuan Xiong (Ligusticum chuanxiong) (rhizome).....117 mg

Shu Di Huang (Rehmannia glutinosa) (steamed) (root).....117 mg
Non-medicinal Ingredients:
Certified organic apple fibre/ beetroot fibre, pullulan/ hypromellose (capsule)
---
Reference
1. Bensky D, Barolet R. Chinese Herbal Medicine: Formulas & Strategies (1990).
2. Pharmacopoeia of the People's Republic of China. Volume 1 (2005). Chinese Pharmacopoeia Commission. People's Medical Publishing House. China.
3. Chen JK, Chen TT. Chinese Herbal Formulas and Applications: Pharmacological Effects & Clinical Research (2009).

*VitaAid is offered available through professional clinician only.
*These statements have not been evaluated by the Food and Drug Administration. This product is not intended to diagnose, treat, cure, or prevent any disease.
---
More from this collection