VitaAid Chlorella 3000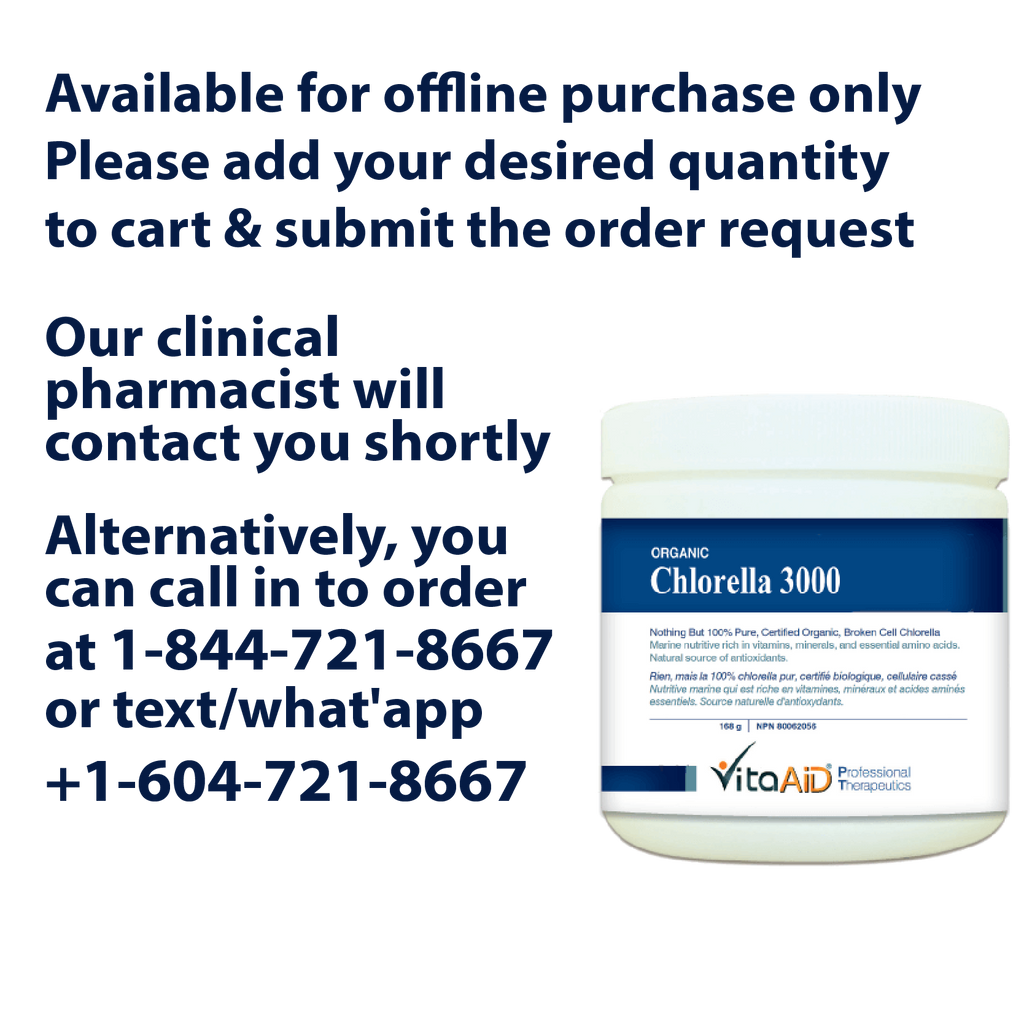 ---
Certified Organic, Natural Chelating & Detoxifying Agent
Due to Chlorella's toxin-binding ability, its cultivation can be prone to environmental pollution. In other words, if a cultivation region is heavily polluted, chances of the products being polluted will be very high.
Chlorella 3000 sources the cleanest certified organic, non-GMO, irradiation-free, broken cell (which increases absorbability) Chlorella from Taiwan (Table 1). We use absolutely no fillers - nothing but 100% pure chlorella is enclosed in each bottle.
Heavy Metal Specifications of Chlorella 3000
| Heavy Metals | Allowable Limits | Results (per daily 6 g dose) |
| --- | --- | --- |
| Mercury | < 20 micrograms/day | Non-detectable (<0.06 micrograms /day) |
| Lead | < 10 micrograms /day | 0.54 micrograms /day |
| Cadmium | < 6 micrograms /day | Non-detectable (<0.06 micrograms /day) |
| Arsenic | < 10 micrograms /day | 0.3 micrograms /day |
Suggested Use:
Adults - Take 1 heaping teaspoon, 1-2 times daily, or as recommended by your health care practitioner.
Caution
Consult a health care practitioner prior to use if you are pregnant or breastfeeding; or if you are taking blood thinners. Hypersensitivity/allergy can occur, in which case discontinue use and consult your healthcare practitioner.
Supplement facts (per serving):
Chlorella vulgaris (broken cells) (Certified Organic).....3000 mg

Non-medicinal Ingredients: None
*VitaAid is offered available through professional clinician only.
*These statements have not been evaluated by the Food and Drug Administration. This product is not intended to diagnose, treat, cure, or prevent any disease.
---
More from this collection