Toothpaste with Tulsi – Cool Mint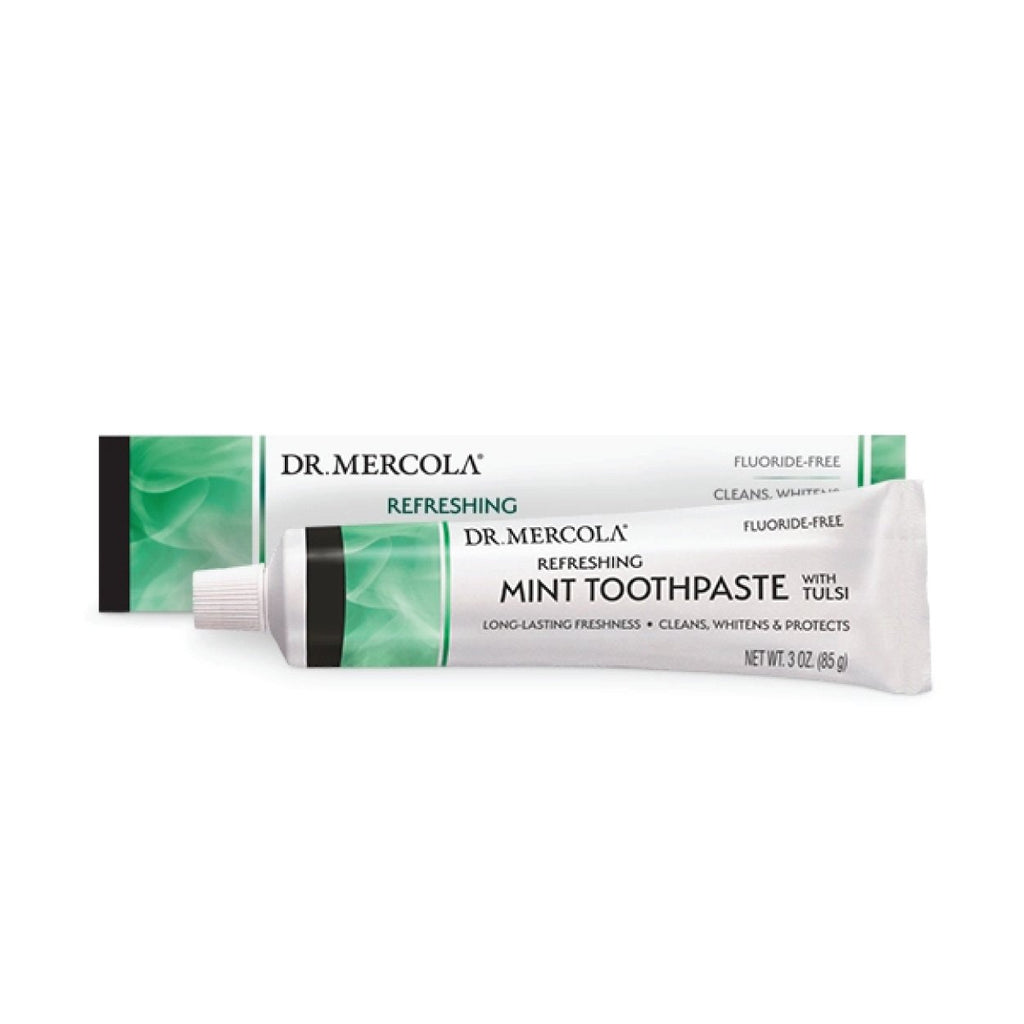 ---
Toothpaste with Tulsi – Cool Mint
If you're using one of the top-selling toothpaste today, you're likely exposing yourself to a brew of inadequately tested, potentially hazardous ingredients. Even many of the so-called "natural" toothpaste can contain some of these same ingredients!
Over 90 percent of toothpaste chemicals can pass through your mouth tissue directly into your bloodstream. So it only makes sense to avoid ingredients that may be potential carcinogens, irritants, or hormone mimickers, like carrageenan, SLS, triclosan, parabens, propylene glycol, dyes, and formaldehyde-releasing preservatives.
Fluoride is another toothpaste additive that, in Dr Mercola's opinion, has far more serious potential health effects than potential benefits for your teeth. Especially since there are effective botanical alternatives for preventing dental caries, he has chosen not to include fluoride in his Refreshing Mint Toothpaste With Tulsi.
Refreshing Mint Toothpaste With Tulsi contains:
Organic ingredients whenever available
No fluoride, but still provides outstanding protection against dental caries or cavities
No genetically engineered ingredients
No carrageenan or other potentially carcinogenic ingredients
No synthetic preservatives, but still has an 18-month shelf life
No hidden heavy metals, contaminants or impurities
No harsh chemical foaming agents like SLS or SLES
No artificial flavors or sweeteners – just refreshing natural mint flavor
No harsh sand (silica), but still provides dazzling whitene
No potentially dangerous antimicrobials like Triclosan
Instead, it contains time-honored oral health ingredients like Organic Tea Tree Leaf Oil, Organic Tulsi Holy Basil Leaf Oil, Licorice Fruit Extract, Xylitol, and Organic Aloe Leaf Juice for caries prevention, fresh breath, clean teeth and gums, whiteness, and a beneficial balance of healthy mouth flora.
For intense oral cleansing action, start with my Refreshing Mint Toothpaste with Tulsi and then swish around my Coconut Oil Oral Rinse for a tremendously exhilarating one-two punch.
Order my Refreshing Mint Toothpaste With Tulsi today and know you're providing yourself and your family with the best formula possible for your oral care and overall health.
Comes packaged in a 3-oz tube – perfect for traveling!
---
More from this collection