Solspring® Biodynamic® Organic Tulsi Tea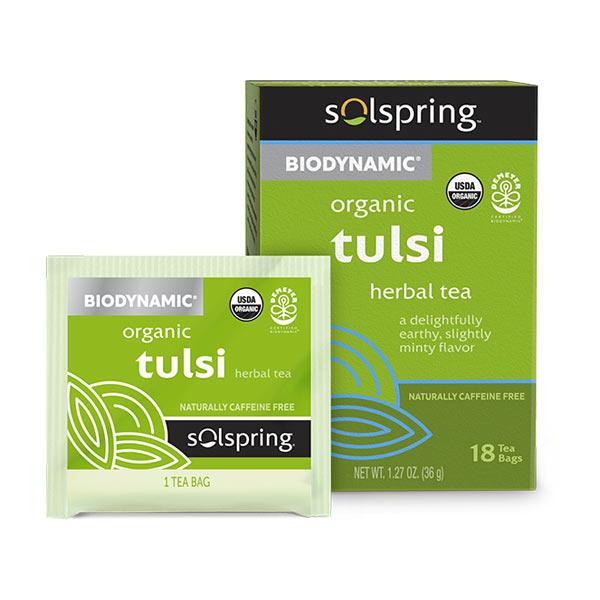 ---
Solspring® Biodynamic® Organic Tulsi Tea
Naturally caffeine free, our Solspring® Biodynamic® Organic Tulsi Herbal Tea offers a blend of three varieties of tulsi – Krishna, Rama and Vana – to create a beautifully earthy and slightly minty flavor.
An Ayurvedic herb indigenous to India, the tulsi in our Solspring® Biodynamic® Organic Tulsi Herbal Tea is grown and harvested in the Southwest region of Kamataka on Magadi Farms in a community of nearly 150 small, third-generation, family-owned tea gardens.
These small tea farmers prioritize creating a self-sustaining ecosystem, placing a special emphasis on the health of the soil to produce top-quality, vibrant tulsi plants.
We worked exclusively with Demeter Certified Biodynamic® tea farmers who use biodynamic, or regenerative, agricultural methods to protect the nearby waterways, ensuring care is taken to preserve the naturally abundant wildlife. They focus on harmony between nature and agriculture as well as ecological responsibility to bring you pure, high-quality teas.
Enjoy the delightfully earthy, minty taste of Biodynamic® Organic Tulsi Herbal Tea along with its calming and uplifting properties, and order your supply today./p>
---
More from this collection