Greener Cleaner® Multi-Surface Household Spray - Unscented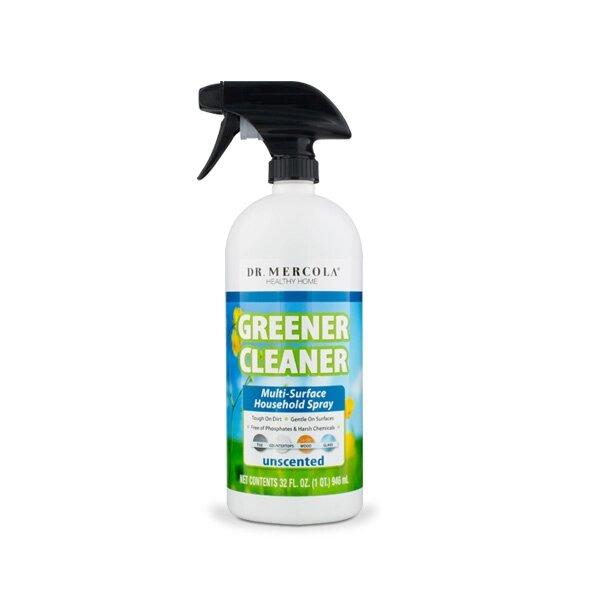 ---
More and more people today want "green" or eco-friendly cleaning products – ones that don't contain harsh or potentially toxic ingredients harmful to you and your family – pets included – as well as the environment.
Unfortunately, you can't always trust a cleaning product's label to provide complete and accurate information about what's inside. No law requires manufacturers to list all of a product's ingredients on their labels, especially if they have a so-called "trade secret" formula!
Yet, labels can be a good start. By knowing what to look for – and to avoid - you can side step the most questionable ingredients and know what to look for in a green household cleaning spray that lives up to its name.
Just a few of the prime offenders to avoid include: Quaternary ammonium compounds or "quats," EDTA, Polysorbate-20, ethanolamine, fragrance, chlorine bleach, DEA and TEA, 1,4 –Dioxane, and synthetic preservatives that can create harmful formaldehyde.
Made only with truly "green" and eco-friendly ingredients, my Greener Cleaner® Multi-Surface Household Spray:
Cuts through grease, dirt, and grime to leave household surfaces fresh and clean
Contains plant and mineral derived ingredients, not volatile organic compounds (VOCs) or other harsh chemicals
Contains no dangerous formaldehyde-creating preservatives
Contains no synthetic petroleum ingredients
Is truly "fragrance"- and dye-free
It's safe for most surfaces – quartz, marble, granite, stone, glass, stainless steel, Formica, tile, ceramic, and finished wood (be sure to test a small area first as it is not intended for use on unfinished wood). You can use it all around your home and office, including your bathroom and kitchen, appliances and floors, office desk and whiteboards!
Best of all, it's simple to use. Just spray and wipe – there's no need to rinse as its streak-free formula leaves no residue. And its convenient spray top nozzle provides quick and dispersed application, exactly where you want it.
Just as effective at cleaning as cleaners that aren't green, my Greener Cleaner® Multi-Surface Household Spray contains tough-on-dirt surfactants, natural organic chelate, specially treated water, and all-natural essential oils. Available in unscented and Fresh Citrus scent.
---
More from this collection